Product Information
Vertical-type vacuum injection molding machine for rubber

VS3

Series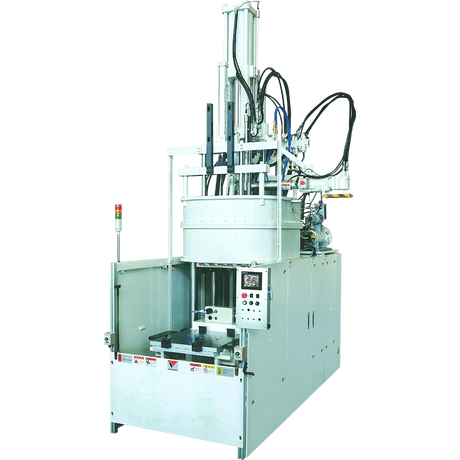 The low workbench provides high work efficiency, energy efficiency, and saving in space.
Vacuum space around the mold substantially reduces the air-related defects.
Based on the XJ Series, which has achieved a high degree of perfection, the VS3 Series has inherited the same features: user-friendliness, energy efficiency, and saving of space.
The vacuum chamber, as standard installation, substantially reduces defects caused by air traps of molded products.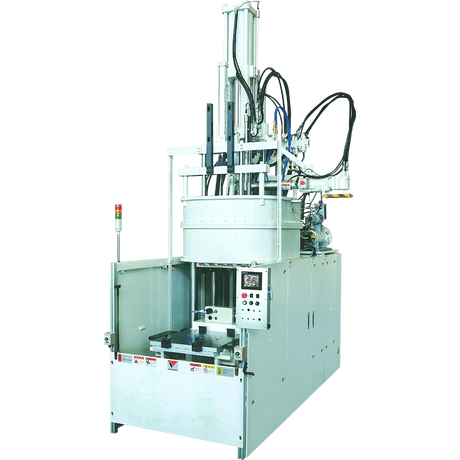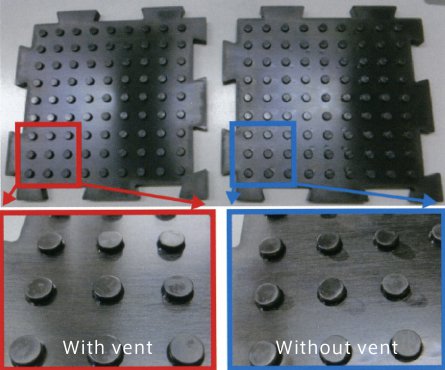 Feature 01
Reduction of defectives
Vacuuming the area around the mold substantially reduces molding defects caused by air traps.
* Allows vacuum molding with molds not specifically engineered for vacuum molding.
Feature 02
Low workbench height
The workbench height is 897 mm, which is 101 mm less than that of the previous model, eliminating the need to set up another workbench and thereby improving work safety.
Feature 03
Space saving
The reduced dimensions maximize productivity in limited factory floorspace.
Feature 04
High energy efficiency
The rotation control pump featuring an IPM motor and high-performance insulation plate substantially helps reduce power consumption.While actual power savings vary by molding conditions, power consumption is typically 30% less than that of the replaced model.
Feature 05
Reduced molding cycle time
The reduced space inside the vacuum chamber shortens the time required to achieve vacuum, thereby shortening the molding cycle time.
Feature 06
Improved maintenance efficiency
A larger vacuum chamber space enables opening up the machine, just like a vertical-type injection molding machine, substantially improving maintenance efficiency for wiring/piping work around the mold.The design also minimizes accumulations of rubber burrs that may cause machine problems, and makes it easier to clean the machine.
Product specification
---
| | 200-ton model's standard specifications | |
| --- | --- | --- |
| Model | VI-200V(S3)-40/70SPR2 | |
| Clamping force | 1,960kN | |
| Mold opening force | 59kN | |
| Daylight | 600mm | |
| Open/close stroke | 400mm | |
| Minimum mold thickness | 225mm | |
| Maximum mold thickness | 475mm | |
| Maximum bottom mold thickness | 300mm | |
| Heating platen diameter | 600×600mm | |
| Mold slide stroke | 850mm | |
| Ejector protrusion | 100mm | |
| Ejector stroke  | 200mm | |
| Ejector force | 40kN | |
| Work height | 897mm | |
| | | |
| Injection capacity | 1,500 cm3 | |
| Injection pressure | 188MPa | |
| Screw diameter | 40mm | |
| Plunger diameter | 70mm | |
| Injection rate | 139cm3/sec | |
| Plasticizing ability (for reference) | 38㎏/hr | |
| | | |
| Mold/heating platen heater | 9kW×2zones | |
| Hot oil circulator | One unit | |
| Hydraulic oil volume | 145L | |
| Hydraulic system | Rotation control pump | |
---